Homes in Anthem Highlands and Anthem Ranch in Broomfield Colorado offer a great setting that many are flocking too.  Beautiful homes in Anthem Broomfield are just part of the story, get the inside scoop on one of the most popular neighborhoods in Colorado.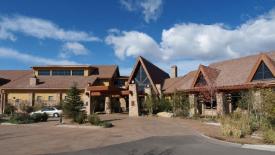 The Anthem Ranch community center
Located in Broomfield Colorado near highway 7 and I-25, Anthem Broomfield is a state of the art community is at the top of every homeowners list when looking for a new home.  The location is perfect for those that commute to Broomfield, Boulder, or even Denver.  Soon to come is the University of Colorado Medical Campus, and the North Park development which many are calling the "tech center of the North".  Anthem Ranch, a 55 and older community is across the way from Anthem Highlands.  Many families choose to have their 55 or better parents in Anthem Ranch while they live in Anthem Highlands.
What is different about Anthem Highlands and why do you want to live there?  Parkside Community Center (PCC) is the neighborhood recreation center and has all of the amenities that you could ever ask for.  You're buying a lifestyle when you buy in Anthem, not just a house.  Full court indoor and outdoor basketball, sand volleyball, lap pool, several parks and playgrounds, 48 miles of trails, children's pool with 2 water slides, a fitness area where each piece of cardio equipment has its own television, weight room, party rooms, children's play areas (with babysitters).  You name it, PCC has it.  Parkside even has a full time staff that coordinates activities and classes, for the neighborhood adults and children.  Here is the best part!  One of the many activities is a week long summer event called Battle of the Blocks.  BOTB is a competition between blocks within the entire neighborhood.  Swimming events, basketball shooting contest, relay races, tug of war, and of course the weekend wraps up all of the activities with events happening all day with prizes at the end.  It is fun for the entire family and people are amazed when we tell them about it.  Check out the video from last year.  http://www.youtube.com/watch?feature=player_embedded&v=RvRJuyZn04k
Every Sunday there is a group of Anthem neighbors that get together for Sunday Family Dinner sometimes at each other's house, one of the many parks, or even a local restaurant like The Lazy Dog so that the kids can play and the adults can too.  Startup kickball games and bocce ball tournaments happen as neighbors walk by the many trails.  When you live in Anthem, whether you purchase a home or rent a home in Anthem Broomfield,  you'll get a real community feeling with great people for your neighbors.
The schools in Anthem are great too!  In the neighborhood is the brand new Prospect Ridge Academy Charter school or PRA.  PRA is based on the same principles that Peak to Peak Academy was founded on and in its short life has risen to great success and is a top priority for many families to get in.  PRA is part of the larger school district of Adams Twelve. The Adams Twelve School District offers many other top ranking schools, according to www.greatschools.net and the kids love attending!  Anthem kids not only attend PRA, but also Coyote Ridge Elementary School, Meridian Elementary School, Rocky Top Middle School, and Legacy High School.  There is a plot of land within Anthem that is slated to have its own elementary school, so we look forward to that in our future.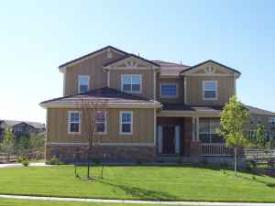 A typical home in Anthem Broomfield
Home prices in Anthem Broomfield have quickly risen.  Even during the times when things weren't looking good in other parts of Colorado, Anthem owners were in a good place as far as being able to sell their homes. Now, in 2013 the properties are selling within days of getting listed.  There are new homes being built and those are even selling quickly.  Rental Homes in Anthem are rare, but when there is one, they go very quickly.  There is no other place that you can get the quality of home, size of home, neighborhood, and amenities for prices starting in the $400's in Colorado.  If you are lucky enough to buy a home in Anthem, you are sure to not only be happy with your decision, but feel confident that you made a wise investment.
For more information on homes in Anthem Broomfield contact our Broomfield Real Estate Agents